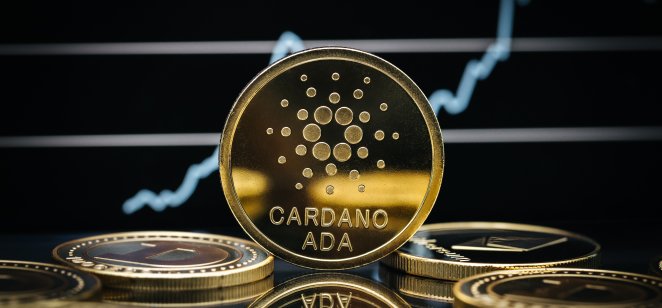 The Cardano blockchain network emerged as one of the early challengers to Ethereum. It uses peer-reviewed scientific research to develop solutions before problems arise, addressing some of the issues with transaction processing and scalability that developers have encountered in using Ethereum.
Cardano was one of the first blockchains to use Proof-of-Stake (PoS) mechanism for block validation, rather than the Proof-of-Work (PoW) approach used by Bitcoin, which requires advanced computing resources and consumes vast amounts of energy. Cardano's Ouroboros PoS consensus mechanism was the first blockchain protocol to be informed by academic research.
Are you looking to invest in Cardano's native token ADA for the long term?
In this article, we look at the Cardano blockchain and what its development means for long-term ADA predictions.
How does Cardano work?
Cardano's developers focus on developing the blockchain's sustainability, scalability and transparency, while maintaining strong decentralisation. The PoS mechanism uses close to 3,000 distributed staking pools to verify transactions and create new blocks.
Ethereum is in the process of shifting from PoW to PoS to address its scalability issues, but Cardano promotes its first mover advantage and faster transaction processing.
Cardano was founded in 2015 and launched in 2017 by Charles Hoskinson, who left the Ethereum project in a dispute over its development and went on to co-found blockchain engineering company Input Output Hong Kong (IOHK). IOHK and Japanese software company Emurgo work on developing the Cardano blockchain.
Cardano takes its name from 16th century Italian polymath Gerolamo Cardano. The network's native ADA cryptocurrency is named after 19th century mathematician Ada Lovelace.
The ADA price soared from $0.1814 at the start of 2021 as cryptocurrency markets rallied and the blockchain launched smart contracts. But increased volatility towards the end of the year and into 2022, along with the emergence of other successful Ethereum rivals, has seen ADA's popularity among investors wane. The price of the Cardano token has shed 69% from its September high of $3.03, trading at $0.93 at the time of writing (13 April).
Data collected by blockchain research company Santiment in February showed that the number of addresses holding 10,000 to 100,000 ADA in their wallet was growing rapidly. But whales, large holders with between 100,000 to 1,000,000 ADA, went from holding 37% of supply to 17.7% in three months, limiting upside for the price.
Cardano is not only facing competitive challenges from blockchains such as Avalanche, Solana and Terra, but it is also exposed to regulatory uncertainty. In December, trading platform eToro delisted ADA and the TRON cryptocurrency (TRX) from its service in the US "due to business-related considerations in the evolving crypto environment".
The ADA graph shows that the price started the year at $1.31 and traded up to $1.63 on 18 January but failed to hold the gains and slid to $0.7528 on 24 February. A rebound in crypto markets in early February lifted the price to $1.24 on 4 April, but another sell-off pulled the ADA coin price back down below $1.
Cardano, like Ethereum, is in the process of implementing a series of upgrades to the blockchain. Its Alonzo update launched smart contracts in September 2021. Its next update, Basho, will introduce sidechains to help process data faster.
Nearly 900 projects are currently #BuildinOnCardano ????And this is just the beginning…

Keeping track of all the news is quite the job and we're still working on it. But we got you covered. In this thread, we look at the latest ecosystem updates ????

Let's go!????#Cardano $ADA pic.twitter.com/OSHbOIjFMq

— Input Output (@InputOutputHK) April 5, 2022
IOHK said on 5 April that close to 900 projects are building on the Cardano blockchain, including Milkomeda, which went live in March to enable decentralised applications (dApps) on Ethereum to be deployed on Cardano ecosystem, and ADA Lend, which has launched a new bridging functionality between Cardano and the Velas and Binance Smart Chain (BSC) networks.
Cardano saw a surge of more than 130% in total locked value (TVL) in decentralised finance (DeFi) apps in March with the launch of the Minswap decentralised exchange (DEX) as well as growth in the SundaeSwap and MuesliSwap DEXs, according to crypto exchange Kraken.
With the Cardano crypto ecosystem growing fast, IOHK sounded a note of caution in a blog post, emphasising the importance of doing your own research on a project before getting involved, noting that "decentralisation doesn't mean we should accept a 'wild west' environment"
Adding: Even with the noblest intentions, some dApps will include design flaws, have bugs, or be poorly supported by inexperienced devs. These issues could leave low-quality dApps more open to being hacked. There will even be dApps that are outright scams or rug pulls. Sadly this is inevitable at some point. And of course, our detractors will seize on these issues and seek to amplify them to damage our community."
What is the outlook for ADA as a long-term portfolio investment? Should you buy the coin in anticipation of a long-term price rise or take a short position to profit from a future decline?
Let's look at the investment horizon for Cardano over the next two decades.
Cardano price prediction 2030-2050: Will ADA go up?
Forecast sites tend to be positive on long-term prospects for the ADA coin value. At the time of writing (13 April), according to data analysis from DigitalCoin, the price of ADA in 2030 could average $4.33 and rise to $4.98 in 2031. Price Prediction was more bullish in its Cardano price forecast, expecting the price to climb to an average of $21.35 in 2030 and $32.25 in 2031.
In contrast, the long-term Cardano price prediction from CoinPriceForecast projected a much slower pace of growth, with ADA averaging $2.93 in 2030 and $3.54 by 2033.
Many in the cryptocurrency community remain bullish on the prospects for Cardano's future adoption. Ethereum co-founder Vitalik Buterin polled the community on Twitter (TWTR) in January on which currency aside from ETH they would prefer to dominate transactions in 2035. Of the more than 600,000 votes, ADA came out ahead with 42%, compared with 38.4% for bitcoin.
Poll for Ethereum community. You wake up in 2035, and 80% of all transactions + savings in the world are in one currency that is not ETH. Which would you prefer it to be?

— vitalik.eth (@VitalikButerin) January 13, 2022
That could indicate the crypto community expects ADA to play an important role in the DeFi space by 2040.
ADA coin price prediction 2030-2050: To trust, or not to trust?
When looking for a long-term prediction for the ADA future price, it's important to keep in mind that cryptocurrency markets remain extremely volatile. That makes it difficult to accurately predict what a coin's price will be in a few hours, and even harder to come up with a credible ADA forecast for 2030-2050. As such, analysts and algorithm-based forecasters can and do get their predictions wrong.
If you are considering investing in cryptocurrencies for the long term, we recommend that you do your own Cardano analysis. Look at the latest market trends, news, technical and fundamental analysis, and expert opinion before making any investment or trading decision. Keep in mind that past performance is no guarantee of future returns.
Is Cardano a good investment?
Whether the ADA token is a suitable investment for you dependы on your risk tolerance and how much you intend to invest. Only you can determine if it is a good fit for your investment portfolio based on your financial circumstances and goals. And never invest money that you cannot afford to lose.
FAQs